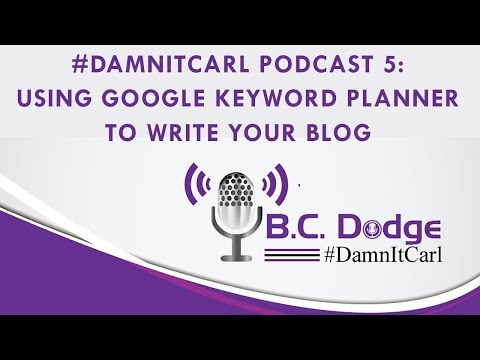 On this #DamnItCarl Podcast B.C. Dodge asks – are you using Google Keyword Planner to write your blog? (Hint – if you're not, you should be.)
There isn't one person that wouldn't love to post something and see it on the first page of a Google search. While producing good content is part of that…knowing what you people are searching for is also very important.
Inside Google AdWords, which you can open a free account, there is a tool called "Keyword Planner." If you are wondering what people are actually searching in regards to what you are writing – this should always be your first stop.
While this tool was originally built to assist with the ad planner, it does offer insight into how to use it for your writing and SEO.
In this video I explain how to use the Keyword Planner. I use the example of the word "Podcast" and what I would use in my title, text, or keywords when doing a podcast write-up.
I explain that you want to make sure that you are looking at keywords that have "Low Competition," but have a high number of average monthly searches. The one note here is that when Google says that between 10 and 100 people are searching for something, they really mean that no one is searching for this so try something else.
One example – again while looking at the word "Podcast" – I can see that "biggest podcasts" has low competition, so not many people are using this phrase. I can also see that between 100 and 1,000 people are typing this into Google as a search.
As an aside, if I wanted to run an ad for my podcast, I would use this phrase and it would cost me around $1.48 to get my search ad to the top of the page. But that is another topic for another video.
While you might want to write what is on your heart, if you want to be found in a Google search – when the little Google spiders crawl your site, you need to feed them. And they feed on keywords, and with Keyword Planner Google is telling you what they want to eat.
Do you have questions or thoughts on the show?
Drop us an email at bc@damnitcarl.com
This was originally posted on B.C. Dodge's site