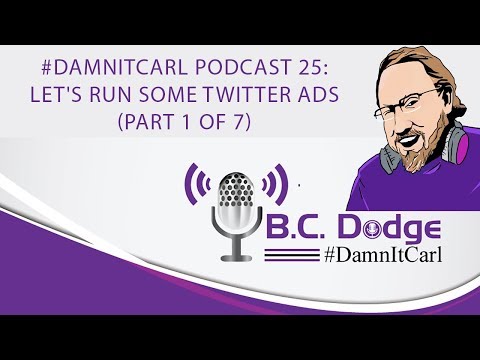 On this #DamnItCarl podcast B.C. Dodge we dive deep into Twitter Ads. We look at what they are how to launch them.
In the past on his digital media videos B.C gives a very high-level overview of things, but in a first for him he takes you step by step through Twitter ads.
This is a 7-part video series which starts simple on what are Twitter ads, and how to open your account.
The videos get a little more technical as they go, till finally you launch the actual ads.
One of the topics that is addresses in this video series is what do you do if you don't have enough followers on Twitter to build an ad set for them?
Perhaps you can look at Google Analytics!
At the time of this writing the campaign hasn't finished yet, but when it does be on the lookout for the results video.
Do you have questions or thoughts on the show?
Drop us an email at bc@damnitcarl.com
This was originally posted on B.C. Dodge's site