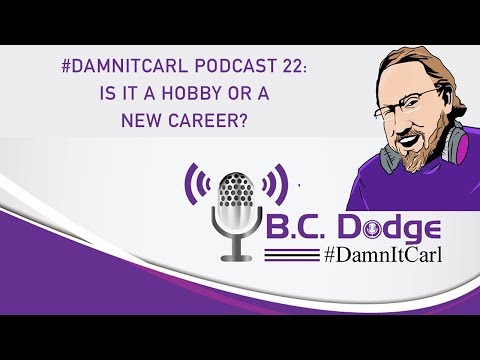 On this #DamnItCarl podcast B.C. Dodge asks – what do you do when you love your hobby more than your job?
Responding to a question from Twitter, B.C. explores how to get the practice and experience that is required to go from hobby to job.
WhileB.C. would love to take full credit for all the ideas in this video, he actually pulls a lot from a video by Roberto Blake titled "How to Start as aFreelancer and Make Money."
One place that Roberto and B.C. agree on is Fiverr – while B.C. has not had a lot of personal success selling on Fiverr, and he does take full responsibility for that, it's not Fiverr's fault, as a buyer he does use it all the time.
The important thing is to take some time and get your hands dirty. The more you work you do the better you will get, and the more your name will be exposed.
Honestly in this time in human history, now is the time to get out there and do what you love. With social media being what it is, you can make images and videos, post to different sites and get the exposer you need.
And of course, the side effect of this simply that the more work you do, the better you will be.
If you have a hobby that you enjoy doing, go and do it – someone out there wants to hear from you or see what you are making!
Do you have questions or thoughts on the show?
Drop us an email at bc@damnitcarl.com
This was originally posted on B.C. Dodge's site